Nestldown is a private family-owned property in the Santa Cruz mountains. From weddings to parties, to corporate events and nonprofit retreats, it is our goal to provide a wonderful and memorable experience for you and your guests.
Acres in the breathtaking Santa Cruz Mountains
Hosted events and celebrations every year
Acres of lush gardens ringed by Redwoods
Minute scenic drive from Silicon Valley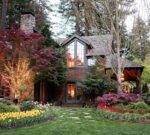 Our Story
Through the Years
The Nestldown family has grown through the decades to encompass not just ourselves and our children, but our staff and our guests as well. We draw inspiration from all of our "family" members and are blessed to see people returning again and again to celebrate their special events here. Thank you for your support over the years, and for sharing your love of this special place with us.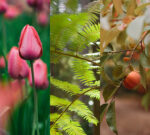 GARDENS
What's Beautiful Now
Our gardens evolve and change throughout the seasons. From the first bloom of the peach trees, flowering cherry and rhododendrons in February to the persimmons ripening in the orchard and color change every fall, there's always something beautiful to see.